Stainless steel crimped mesh is durable coarse screening material suitable for acid and alkaline environment mineral processing. SS Mesh Sieves and Sifting Sizers are used for screening coarse to small particles, to separate commercial valuable minerals from their crude ores. The particles go through sieves of different apertures for separation of particles according to their size.
Crimping and Weaving Structures of Pre-crimped wire vibrating screen mesh:

Common structures: Double crimp, lock crimp, intermediate crimped, flat top screen, slot screen, anti-clog( self-clean)screen, rectangular screen.

The Vibrating screen mesh can be produced with edges and hook types as below:

Edge Preparation: Plain, bent, reinforced shroud, welded shroud, bolt shroud.
Hook Type: C or U hook for 30° - 180°.
Application of Crimped Wire Screen:
1. Mineral vibrating screen for stone and rock quarry vibrating in mining industry

Materials can be high carbon steel wire 65Mn, 45#, Stainless steel wire 304,316,316L,etc.
Wire diameter: 0.5mm-14mm
Opening size: 2mm-150mm
Tensile strength: 1000Mpa-1900Mpa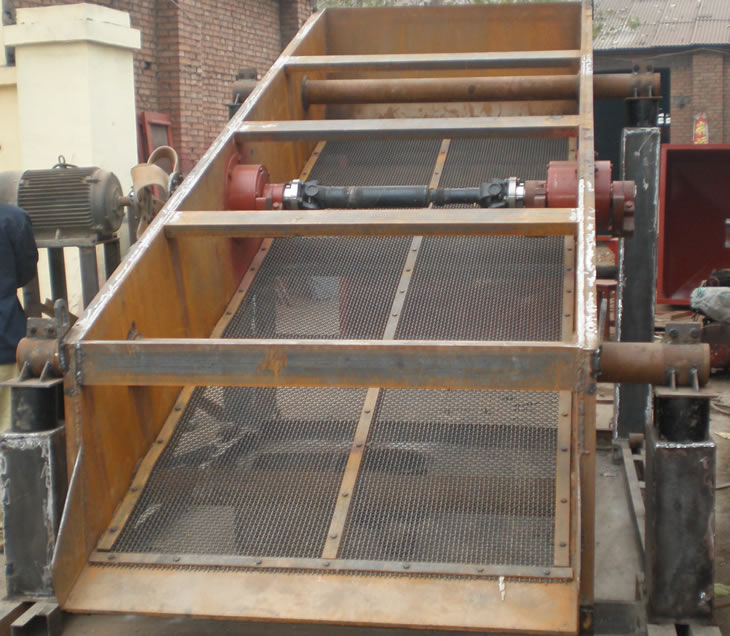 2. High tensile manganese steel wire crimped square opening mesh screen: Wire Diameter: 0.71-12.5mm, Opening Size: 1mm-100mm
Mesh Type Options: Square, rectangular slot, long slot.
Surface Treatment: Black or red color painted
3. Heavy duty crimped coarse screen of mild steel, spring steel and stainless steel

Designed for sieving large quantity without any stretch. These are available in 2 mm opening to 100 mm opening in the diameter of 1 mm to 20 mm wire rods.
Specifications
We supplies crimped mesh mining screen for Quarry Treatment and dewatering uses, in single layer, high frequency or bonding mesh types.
Thickness of slab: 0.3-8mm. Short spacing: 3-80mm, long spacing: 3-200mm, maximum roll width: 2.0M.
Common Sizes:
40mesh/20meshx700x1050
80mesh/20meshx700x1050
120mesh/30meshx700x1050
160mesh/40meshx700x1050
note: above specification is 40-200 mesh
20mesh/12meshx700x1050
40mesh/18mesh/12meshx700x1050
100mesh/40mesh/20meshx700x1050
160mesh/60mesh/20meshx700x1050
200mesh/60mesh/20meshx700x1050
Note: above specification is 20-200mesh
40mesh/20mesh/12meshx715x1215
80mesh/40mesh/12meshx715x1215
120mesh/40mesh/20meshx715x1215
180mesh/60mesh/20meshx715x1215
Note: above specification is 20-200 mesh
40mesh/12meshx900x1146
80mesh/20meshx900x1146
140mesh/20meshx900x1146
Note: above specification is 20-160mesh
60mesh/20meshx1150x1000
100mesh/20meshx1150x1000
40mesh/12meshx950x800
60mesh/20meshx950x800
80mesh/20meshx950x800
20mesh/12meshx630x1250
80mesh/20meshx630x1250
120mesh/40meshx630x1250
160mesh/40meshx630x1250
note: above specification is 20-160mesh
20mesh/12meshx800x1250
60mesh/20meshx800x1250
100mesh/40meshx800x1250
note :above specification is 20-140mesh
20mesh/12meshx633x1250
60mesh/20meshx633x1250
100mesh/40meshx633x1250
140mesh/40meshx633x1250
200mesh/60meshx633x1250
note: above specification is 20-200mesh
100mesh/20meshx1800x560
150mesh/20meshx1800x560
120mesh/20meshx1750x510
150mesh/20meshx1750x510
12meshx1120x2050
40meshx1120x2050
80meshx1120x2050