It is a metal mesh structure components used for the water well screening and filtering.
Wire Materials: Mild steel tapered wire, high manganese steel wire and stainless steel wire welded together.

The screen panels can be made in round type sheet or rectangular panels.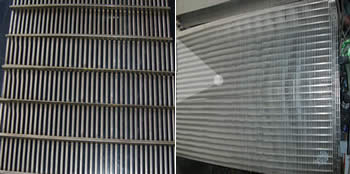 Forms of Supply:
Screen basket, vibration sieve, cylinder nets, arc sieve screen, etc.

Rod based continuous slot welded wedge wire screen
Wedge wire screen are composed of a variety of wedge wire configurations and constructed in a spiral shaped form where the support profile is wrapped spirally by the surface.
Application:
Filtering and sieving in mining, coal, petroleum, chemical fertilizer, grain, salt, environment protection;
Screening liquid, powder materials;
Pharmaceutical purification, drilling liquid purification, etc.